Launching "Selfdrive – Car Rentals" Super App In Qatar.
Must Visits 383 478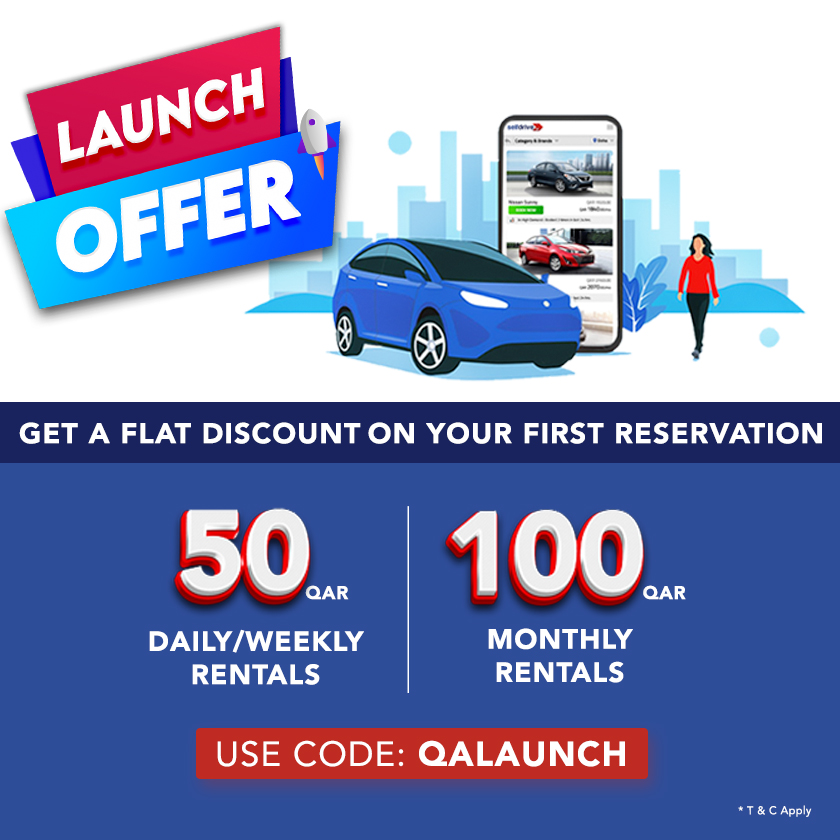 Qatar and its city Doha is rapidly developing, as the development is evident by its changing skyline. The government of Qatar extended its public transport services in the year 2020 with metros and trams. Still, public transport doesn't cover most parts of the country. So, people find it difficult to reach their destination on time hassle-free. Though the country has its taxi services, residents, migrants and tourists find the Karwa, Careem and Uber taxis to be more expensive.
Residents and migrants are aware that the cost of cars and other motors are more expensive in Qatar compared to other GCC countries. Owning a car with other expenses like heavy down payment, monthly EMIs, services, maintenance and annual depreciation will haunt them. So, most people in Qatar prefer to rent a self-drive car from Selfdrive.qa.
Tourists find it difficult to travel in multiple public modes of transport to reach one location. The weather in Qatar is extremely hot and humid throughout the year. So, to travel with comfort and feel luxurious tourists prefer to rent a car to explore the country.
With renting a car from Selfdrive.qa, not only do people feel comfortable and luxurious but also feel safe during the time of the pandemic. As the hygiene is well maintained in the rental cars and it keeps you away from the crowd of public transports
Why Selfdrive is best?
Selfdrive, UAE's largest car rental company has now extended its wings in Qatar as Selfdrive.qa. Selfdrive customers in the region have access to over 5000 vehicles available for rentals starting from 1 Day to 36 Months delivered to their doorstep.
We are in your country to make Qataris and tourists experience the fun of driving a brand new car exclusively 0 Kms at a low cost. Rent a self-drive brand new car from Selfdrive.qa at your convenient duration like daily, weekly and monthly. And especially for tourists to hit the roads of Qatar as soon as they land we even offer car rental directly from the airport as Airport rental.
Selfdrive.qa brings brand new cars to your service directly from the dealers. Our customers will have a wide variety of brands and models of cars to choose from. We are always just a ring away from serving you in any need. Renting a car from Selfdrive.qa is just like owning a brand new car with no headaches of monthly heavy EMIs, service, maintenance and annual depreciation.
Selfdrive.qa gives convenient options for our customers to flexibly rent a car. The process of booking a rental car from Selfdrive is effortless and quick, our customers can book a car through our website www.selfdrive.qa, download our Selfdrive app, our PWA m.selfdrive.qa, email us at info@selfdrive.qa or WhatsApp us on +974 50 400 647.
Rent a Car from Selfdrive and get benefitted.
Exciting Launch Offers on Daily | Weekly | Monthly rentals.
No security deposit is needed for daily/weekly booking.
Fuzz-free procedure.
Access to a brand new car without any liabilities of down payments or loans.
Budget-friendly brand new rental cars with all other services.
Delivery within 3 hours of post-booking.
Switch to any car model whenever you desire.
Safe drive, Basic Insurance covered.
No worries about service, maintenance, insurance and annual depreciation.
Owning the experience, not the car.
Rent a Car from Selfdrive and get benefitted.
Selfdrive.qa makes the process of booking a car much easier for our customers. All our customers need to do is download our Selfdrive app or visit our website www.selfdrive.qa.
Select the duration of rental > Choose the car > Select pick-up & return location > Pay
Express Booking :
Daily/Weekly
Micro Lease :
Monthly (1-12 months)
Lease pro :
12, 24 & 36 months
Airport Rental :
Car pick-up from Airport
Rent a Car from Selfdrive and get benefitted.
We delightfully serve our customers from booking the car to returning it. Our customer's convenience and satisfaction are of utmost top priority to us. Accordingly, Selfdrive.qa happily offers different types of services for our customers during the car rental duration.
Door-step pick-up and return services with additional charges based on location.
Pick up and return the rented car in different locations.
Additional driver with additional charges.
Additional mileage with additional charges.
Personal Accident Insurance (PAI) for the driver with additional charges.
Service, Repair and Maintenance round the clock.
Replacement with a temporary car during the service period.
Replacement of car in case of damage or repair.
24/7 roadside assistance in an emergency with replacement of car.
Brands you Find at Selfdrive.qa:
Toyota, Chevrolet, Hyundai, Nissan, Mazda, Mitsubishi, Honda and more.
Pay and Reserve.
For payments, we have credit/debit card options. There are no hidden charges and our charging structure includes services, repairs, maintenance, registration, insurance, 24/7 roadside assistance and free replacement of cars when needed.
The Wait is Over.
With mind-blowing Launch Offers, when you get all the required services in one place on your budget, What else makes you wait for? Download the app Selfdrive - Car Rentals, Visit our website www.selfdrive.qa, Visit our PWA m.selfdrive.qa, email us at info@selfdrive.qa or just ping us on +974 50 400 647. Book and hook with us for more offers with great services.
---